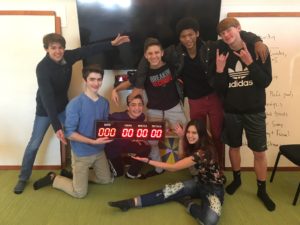 Let's face it.  Freshman college Biology often serves as a "weed out" course designed to identify those who aren't prepared for rigorous university-level work.
So, it was a risky challenge for our Launchpadders to attempt to earn six hours of college credit in five weeks, while still maintaining full responsibility for reading deep books, writing a difficult genre piece, keeping up with Khan Academy math and civilization and tackling real world Acton MBA challenges for their Next Great Adventure.
At first, Launchpadders took the CLEP test preparation in stride, digging into Khan Academy, Bozeman, Crash Course and Modern States videos, all while devouring a college-level biology textbook.  After a practice test or two, the intensity picked up as deep Socratic discussions and Eagle led review sessions were added.
This morning, eight brave Launchpadders headed for the testing center, credentials in hand.  When the test results came in, four of the eight had passed with flying colors and the other four within 1 to 3 points of passing
Yes, traditional tests often are a collection of useless minutia.  Yes, there are far better ways of learning how biology can advance your Hero's Journey than a standardized test.  But now our Launchpadders know they can deliver first-rate university work – in their spare time.
Three cheers for the heroes of Launchpad!