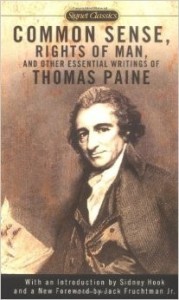 Our Civilization discussions in Launchpad had grown stale.
Watching great college lecturers and following with Socratic Debates just no longer seemed as interesting as it once did.  So it was time to add some spice.
One third of Launchpad was assigned to play the role of Tories, those in the American Revolution who were loyal to King George.  Another third were assigned to be radicals like Thomas Paine.  The final third were neutral Colonists, unable to decide whether or not to revolt, tasked with asking questions of the Tories and Rebels.
At the end of the debate, the Neutrals would cross a line to join one side or another.  The winning side would earn more points.
Launchpadders watched a college level DVD.  Then went out and did original research, devouring letters, speeches and diaries from the period.  Finally, it was time for the debate to begin.
It was a spirited exchange, with raised voices on both sides.  Logic met with emotions and fevered appeals to loyalty.  By the end, the Rebels won by a whisker, likely just as it happened in Boston and Charleston.
Once again, we have heroes making tough choices as leaders.