The Rocket Olympics finished with a bang – or to be precise, seven powerful blasts.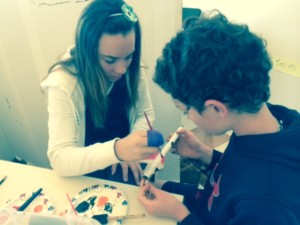 We started with a few last minute preparations and a review of the different rocket designs and artwork, with voting by Eagles from the Elementary and Middle Schools.
Next, it was time for seven dramatic countdowns that led to seven spectacular launches — rockets shooting and twisting far out of sight, until with a "pop" parachutes emerged.
We had six successful recoveries and an 84% success rate, with several Rocket Teams making surprisingly accurate predictions of their rockets' trajectories, especially given the brisk 10-20 mile per hour, swirling, gusting winds.
In the end, the winners celebrated, complete with an Olympic style rendition of the national anthem.
Rocket Scientists of the world unite!