Those of us who hire employees know searching for the right person too often requires a depressing swim through a sea of commodity-like resumes and many cover pages strewn with  grammatical mistakes and misspelled words.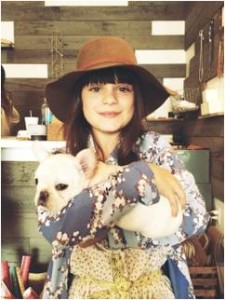 So imagine  you open an email,  glancing down the text to see a picture of a whimsically dressed eleven year old, holding an equally whimsically dressed puppy.  Then you start to read:
Dear Ms. Cxxxxxxxx, 
 I visited xxxxx last year with my mom, and it was one of the most beautiful, fascinating, imaginative, and inspiring experiences of my life. I learned so much about the methods and processes used to create beautiful clothes and how travel can work to inspire new creations. I admire you (and those you work with) so deeply for what you contribute to this world. I am so grateful for that experience, and I will cherish it forever. Thank you for spending time with us and giving us a tour of this beautiful space.
 At my school here in Austin, Texas (Acton Academy), we believe in learning by knowing, learning by doing and learning by being. Each student is committed to their individual journey to find their passion. Otherwise known as, The Hero's Journey. We each are blessed with our own gifts, talents, and callings. We nourish them every single day, so we are prepared to change the world some day.

The main gift that I focus on is fashion. I hope to bring beauty to the world, and inspire everyone to be themselves, and have their own style. As an 11 year old middle schooler, I am beginning a fashion blog very soon, and styling a fashion photo shoot with a local fashion photographer and a few friends, which I will then pitch to a magazine. I also designed and created a fashion look book last fall. I styled it completely by myself, and shot the photos on my own, as well. I sold them $15 each at a children's business fair, and nearly sold out. I will mail one to you if you are interested.
 Fashion is a huge part of my life, and I believe it is one of the things that makes us unique and authentic. I would love everyone to believe in that statement someday, and I am wondering if you would help me by considering my request for an apprenticeship.
 We are nearing the end of our school year. Our next step on our journey is to find an apprenticeship with someone who is considered a hero to you. The apprenticeships will be one or two weeks, and each of us will work with our hero, doing what they do to see if we enjoy it, and want to further pursue it. I immediately thought how amazing it would be to work with you. Inside one of the most beautiful fashion studios in the world. I will be very helpful, and never in the way.
 Please be in touch with me if you would allow me to do this, or if you would like to talk more about it with me or my mom. Thank you so much for considering this request.
 Very sincerely,
Reese Youngblood 
(Reprinted with permission from Reese and her parents.)
How would you reply?  Would you hire Reese as an apprentice, if fashion were your calling?
Here's the reply Reese received:
Hello, dear Reese,
Your letter has touched my heart. I love the sweet clarity of your vision. Its timing is impeccable and poignant as I spent the weekend writing about my heart's desires and my own heroic journey. I will need to speak with Christina who is not here right now. But if it were only up to me, I would say yes in a heartbeat! I have an idea that I will propose to my partner and we can see what happens. It would give me great pleasure to have someone as bright, passionate, focused, capable and talented as you are as my apprentice because it is my experience that not only you would have something to learn from me, but I from you, too!   
 I will keep you posted. In the meantime, can you tell me more about the practical aspects and time constraints of your apprenticeship. What is the possible time period – from now until end of June? Or? And more practical considerations such as housing and food – is your mom going to come with you?
 Thank you!
 Cxxxxxxxxx
When we critiqued Reese's email in the studio and reviewed the reply she received, one Eagle chirped: "That sounds like a 'yes' to me."  We all agreed.
Graduates from prestigious colleges increasingly find themselves unable to find a job, and must move back in with their parents.  Perhaps these graduates should be looking for a calling instead.
Not to mention that a few lessons from an eleven year old about how to write an irresistible email might help too.