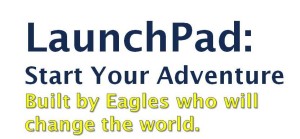 Two weeks ago week we announced at a parent meeting our plans for LaunchPad, the name Eagles have given to our new high school, which will open in the fall of 2015 (though the most advanced middle school Eagles already are working on the model, and will be experimenting with the curriculum next fall.)
LaunchPad will allow Eagles the freedom to choose their own adventures, while preserving the option to attend a selective college.
During the Launchpad years, Eagles will dig into advanced reading, literary analysis, writing and communication skills, tackling advanced Math concepts, serious Socratic discussions in Civilization and even creating Quests for the lower studios, as a way of doing deep explorations into Science and the Arts.
Longer term, serious, for pay apprenticeships will play a big role in LaunchPad as well, giving Eagles a chance to test their skills and thirst for a calling in the real world, long before most young adults make a blind choice of a college major.
And, on top of these accomplishments, LaunchPad Eagles will assume many of the responsibilities for running the lower studios, earning Learning Badges that would qualify them as exceptional leaders in the world's leading companies and not-for-profits.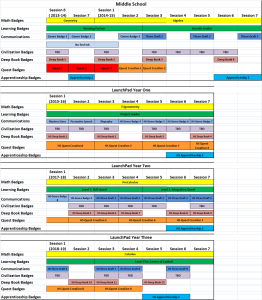 How will we accomplish all of this?  Two secrets:
Our Eagles can work at 10X the normal rate, when absorbed in something they love.  Allowing individual choice leads to an exponential increase in the quality of work and the number of skills mastered.
Arranging Quests as a series of badges that demonstrate competence and mastery, allows us to sequence challenges in a way that delivers real world skills, while still preserving the ability to map these badges into a more traditional (and artificial) traditional high school curriculum.
How do you create a portal into the real world that equips and inspires young people?
Start with a blank sheet of paper; embrace 21st century learning; combine with ageless wisdom; and above all else, ask the young heroes to help you build it.