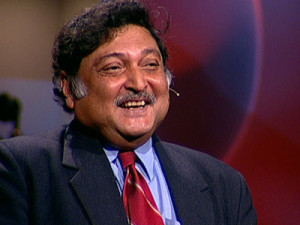 Sugata Mitra is the father of the Hole-in-the-Wall experiments, where in poor neighborhoods all around the world, he installed computer terminals that allow students to "self-organize" to learn.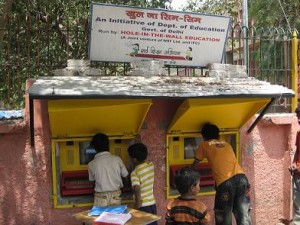 In case after case, the poorest of children  —  without a teacher or school –  outscored the most privileged private school students in their countries, leading to Mitra winning the first $1 million TED talk prize.  Mitra went on to create Granny-in-the-Cloud, an army of British grandmothers who acted as virtual Running Partners (coaches) for Sugata Mitra's students.

Now, Sugata Mitra will be coming to Acton Academy the second week in June, to lead our Eagles in a SOLE (Self-Organized-Learning-Environment.)
How does a SOLE work?  Eagles form into four person teams, around one computer.  Mitra asks a compelling question, and the Eagles go to work.  An hour or so later, the teams convene to present their findings.
Here's an example of a SOLE Sugata Mitra led for group of poor Indian children a few months ago:
He started with a story:
"Five hundred years ago, barbarians invaded India and were repelled, because the natives had better weapons, forged from superior steel.  The barbarians regrouped, wondering how to acquire such steel.   One suggested: 'Perhaps we could just offer to buy some steel from them in the normal course of trade."
Another replied: 'Surely they would not fall for such a trick.'  But they did.  The barbarians analyzed the steel and created a superior metallurgy, forging weapons three inches longer.
Because of that three inches, the barbarians were successful in their second invasion, changing India forever."
Mitra then asked his question: "What were the metallurgy changes and the science that made the extra three inches possible?"
He left and came back a week later.  The presentations were powerful, incorporating deep questions in and lessons about chemistry and metal working.
Mitra then issued his second challenge: "What problem can you find in the world today, where 'three extra inches' would change the world, and how would you propose to solve it?  I'll be back in two weeks."
A compelling story to set the stage.  A powerful question.  Four students, a computer and a great deal of faith.  No adult in sight. Perhaps the most effective curriculum and classroom of all.
(By the way, during his visit to Acton, Mitra will invite an Acton parent who knows little about science to lead a second SOLE on physics.  Consider it our chance to learn from a modern day Socrates.)