What is more important, which books you read, how many books you read or how you are transformed by what you learn?
Yes, some of our Eagles love to read about the military and guns; others prefer Harry Potter, Science Fiction or a juicy romance novel.   But walk around the studio and you'll also see Democracy in America; 1984; A Brave New World;  A Brief History of Time and Walter Isaacson's biography on Steve Jobs.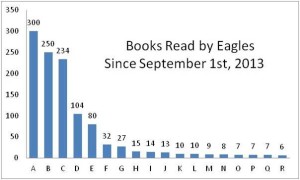 Sixteen Eagles we surveyed read a total of 1133 books in the last nine months, or an average of 67 books per Eagle.  ( And yes, some Eagles truly have read over 200 books.)
Even the Eagles who have read fewer books, choosing on math, writing or more serious tomes, have devoured between six and ten books since the start of the school year.
Has your Eagle been transformed by reading?  Well, you'll just have to judge yourself.  If, that is, you can tear her away from a book long enough to ask.