Nothing concentrates the mind like a public exhibition.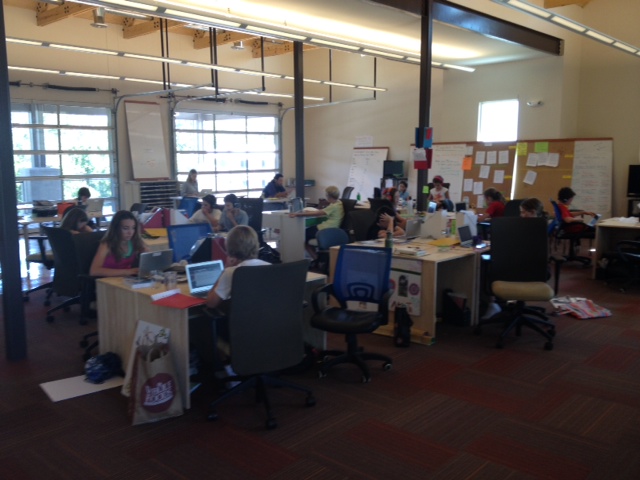 Samuel Johnson said: "Depend upon it, sir, when a man knows he is to be hanged in a fortnight, it concentrates his mind …"
In this same spirit, the air is sizzling in anticipation for next Thursday's Motivation Hero Debate and Personal Learning Plan exhibition.  Nothing like having to perform in public to motivate an Eagle.
Today, we upped the ante with the following Personal Learning Plan Challenge:
"Eagles,
Do you want to impress your parents and friends with your Personal Learning Plan ("PLP")?
Do you want to "prove what you can do" to land an exciting apprenticeship this spring? or
Would you just like an Ice Cream Party next Friday to celebrate the end of the session?
Here's the deal: If everyone meets the requirements below, we'll have an Ice Cream Party next Friday afternoon.  You can even invite the Elementary Eagles to attend if you throw in 40 Eagle Bucks to pay for their ice cream.
All returning Middle School Eagles have to send an email (vetted by another Eagle or Running Partner for grammar) to the entrepreneur or manager who sponsored your apprenticeship with a "thank you for what you inspired me to do this year at Acton" note AND a link to your PLP by next Friday at 10 AM (copy Ms Abgail).
All Eagles new to the MS need to send an email note to your Running Partner's parents saying "look what my Running Partner inspired me to do," including a link to your PLP.
Each Eagle's Running Partner must certify that your Personal Learning Plan has met the minimum recommended requirements, including the Evidence Tickets for each area below, presented in a clear and attractive way:
Math deadlines for Pre-Algebra and the next math challenge (Algebra; Geometry; Trig)
Reading goals;
Writing goals, including typed versions of your three best journaling examples.
Civilization goals;
Learning Badge goals
At least eight MyHJ tickets, including: Gifts; Flow; Opportunities and Injustices; Eulogy and Epitaph; My Heroes; My Three Apprenticeships;
For your Motivation Hero Debate:  at least one of the Mentor Text analyses; your final written presentation and at least one of the written video analyses.
Note: As part of the PLP Contest, every parent will receive: (1) a schedule comparing your commitments for this coming year in reading, writing, math and Learning Badges to your classmates; (2) a complete copy of all of the Evidence Tickets for the session; and (3) the minimum requirements listed above, so they can have more perspective on the work you've done this semester.
Please feel free to revisit and update your plans – especially for Math and Learning Badges."
Making promises – to yourself and people you respect.  Public exhibitions, even when it's hard, because real world consequences prepare heroes for the real world. Special celebrations, because hard work and fun are not mutually exclusive.