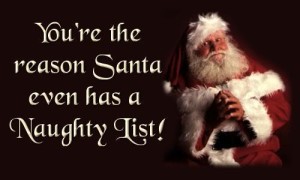 Just a few weeks before Christmas, MS Eagles discovered they had been added to Santa's Naughty List.
What to do?  With no time to spare, each MS Eagle had to write a letter to Santa to negotiate a return to the "nice side" of the ledger.
Some MS Eagles thought the challenge a bit light at first, but after a series of detailed writing exercises, critiques, drafts and edits, the results speak for themselves.
Did your MS Eagle escape from the Naughty List?  You be the judge.  And along the way, you can celebrate your Eagle's progress in writing skills this year, as well as offer some growth mindset encouragement for the months ahead.