At Acton Academy we believe deeply in customer feedback.  So last week we displayed the Journey Maps for this year's sessions, and asked Eagles to rank which processes and exhibitions were the most "fun" and most "important."
Being surrounded by the breadth and depth of forty six weeks of very hard work is  overwhelming.  Our Eagles have an incredible capacity for learning, that is only minimally captured by the class being, on average, five grade levels above age in Math and Reading.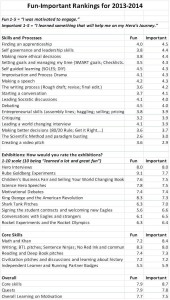 The customers have spoken, giving us suggestions for more exciting challenges for next year.  Even better, perhaps we'll just ask the Eagles to create the curriculum themselves.