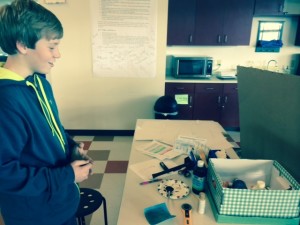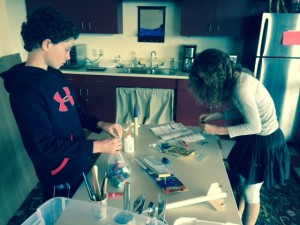 Mission Control buzzed with energy as rocket scientists prepared for tomorrow's launches.  Rocket points were tallied, to make sure each team had paid for the rocket parts they had ordered.
This morning we reviewed experiments from the last few days, noting the different approaches that different groups of scientists had taken:
 Gathering large amounts of experimental data and using proven equations;
 Using fewer empirical observations and a simulator to make predictions;
 Inventing entirely new approaches and equations, that might or might not work.
Adjusting initial estimates based on new learning.
Depending on the the approach, Eagle teams celebrated:
Preciseness;
Diligence and perseverance;
Creativity;
Teamwork; or
Curiosity.
Then, focus shifted to tomorrow's Rocket Olympics, as nothing concentrates the attention quite like a countdown (with apologies to Samuel Johnson.)  Estimating the impact of winds forecast at 10-20 miles per hour, and aiming the rocket so it drifts back to the launch site will be no easy task.
The countdown begins at 12:30 Central Standard Time on Thursday.  Let the games begin.