The Chemistry and Cooking Exhibition was — well, it was an extravaganza.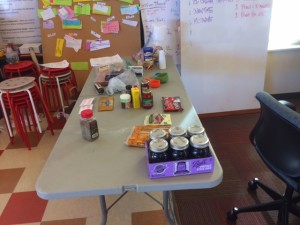 Middle School Eagles gathered for a "Chopped-like" cooking contest, where teams would be charged with creating tasty dishes from a random collection of ingredients, under intense time pressure.
But there was a catch.  In order to earn extra time and ingredients, Eagles had to make original one minute Chemistry pitches to an esteemed panel of judges.
The better the pitch, the more points you would earn for your team to enhance its culinary masterpieces – and there was extra credit for tying Chemistry to the specific dish you were cooking.
In other words, science meets real life.
Luckily, the Eagles had been deeply immersed in independent research and were well prepared with Chemistry displays, skills and facts that could be re-purposed for almost any set of ingredients.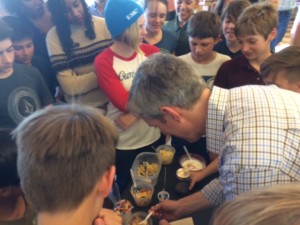 At the end of the Exhibition, a Master Chef declared a winner, making courageous decisions about the Tastiest; Most Original and Best Presented dishes.
Deep science learning; practical cooking skills; team work and decision making under pressure — plus a lot of fun. That's how we make make science meaningful and great fun at Acton Academy.