Building a self sustaining learning community is difficult.
Everyone begins with good intentions, but like entropy,intentionality  almost always moves towards disorder.  All will be diligently working, and then one bored studio-mate begins to amble about, distracting others.  Like a game of Zombie-Tag, each person who is infected infects others, and attention and work ethic quickly crumble.
How do we reverse this entropy of learning potential without becoming controlling teachers?  By clarifying rights and privileges, for Guides are allowed to insist that the covenants set by Eagles should be respected.
Eagles have the right to work individually and quietly on Core Skills, to meditate or even rest.    Soon, however, most hit a flat spot with individual work.  The going gets tough; an individual becomes tired or bored.  He or she soon seeks the company of others.
Chance social interaction is like a quick sugar high, a cheap boost of energy.  And while Eagles have the right to work hard individually or even to be bored, they do not have the right to distract others.
Middle Schoolers live for community.  In fact, the love of community is far more motivating than the love of learning.    That means that the privilege of collaborating can be used to encourage serious work.
Yet collaboration, poorly defined, becomes little more than hanging out with friends and frittering away time.  Frittering away time is not a habit for heroes who want to change the world.   So collaboration must be tightly defined as individuals, working toward a specific measurable goal, for a set period of time.  Added to this antidote to bolster intentionality are weekly SMART goals and Long Term goals that cannot be adjusted on a whim.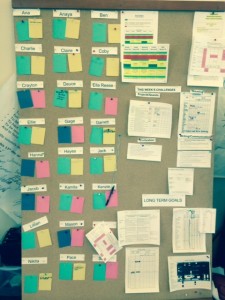 we have created a new system to encourage and support these habits.
A Green Card means you have earned morning and afternoon breaks by being current with SMART goals (set and checked) and have reached your weekly Core Skills goals (reading, writing and math.)   A  Yellow Card means you have been respecting the rights of others to work without being distracted, and thus can collaborate with others if your are doing so in a SMART way.
Will this new approach work?  Likely, only for a while.  Yet it seems every step towards transparency and accountability more deeply imbeds the habits of grit and perseverance that will serve our young heroes well, and prepare them to create even more powerful systems themselves.